Inetimi Timaya Odon popularly known as Timaya is a Nigerian Musician who is known to keep his personal life private but it came as a surprise to many when he openly came out to announce his 6-months old daughter and the mother, his new baby mama, Dunnie Onasanya in November 2020.
Prior to the announcement, Timaya has three kids from two different women, his ex-girlfriend, Barbara Nwokolo and Tamar, who is an interior décor.
He also had the first birthday of her fourth daughter Dunnie Onasanya celebrated in the US on the 17th of May, 2021.
Who is Dunnie Onasanya?
Dunnie Onasanya widely referred to as Dunnie O or sometimes Dunnie is a first-generation Nigerian-American, who was born to Nigerian parents on the 29th of September, 1988 in Los Angeles, United States of America.
The outstanding business expert is a Muralist, Visual studio artist, event producer, and social media marketing expert who has a lot of social media influence and following.
She had her university education at the prominent Tuskegee University where she was awarded a distinction in Business Administration and Sale/Marketing.
Dunnie Onasanya's Ex-husband
She recently just had a baby girl for the popular Nigerian artist, Timaya as she was the talk of the time in November 2020. However, she had been previously married to a video director known as Ibrahim Hassan.
The Duo had known each other since 2011 before the young man finally asked her out officially in 2014. Her pregnancy prompted them to shift their wedding earlier and this made their wedding held in Beverly Hills, California in the year 2015.
Sadly, the two of them got divorced in 2018 and it was concluded under the jurisdiction of Los Angeles County Supreme Courts in Los Angeles, California.
Assumptions were made that she left the marriage as a result of domestic violence in her previous marriage. However, she never exactly mentioned the reason for walking out of that marriage.
She had a beautiful daughter with her ex-husband, Zion Olori, who was born in September 2015.
Dunnie Onasanya's Net worth
Dunnie Onasanya is rated one of the richest social media marketers with a reported estimated net worth of 300,000 US Dollars (this cannot be independently verified by Lanre News).
Photos of Dunnie Onasanya and Timaya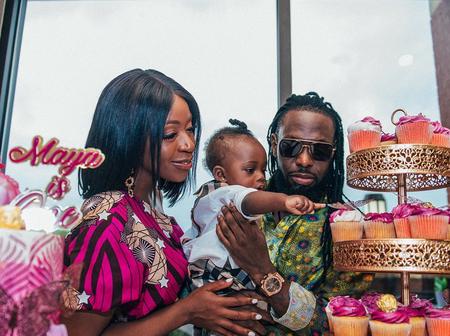 Lanre News | Latest News in Nigeria | Africa | Around the World.
ADVERT: Shop handmade products and vintage gifts on Jeugmark, the Marketplace by Nigerian Youths for the Youthful.